Easy Full Service Payroll With SINC's New Gusto Integration
##> Our team are proud to announce that, after a lot of hard work, we have created a powerful integration and partnership with leading cloud Payroll provider Gusto.
What is Gusto?
Gusto is an affordable cloud payroll platform that provides the following features and more:
• Full Service Payroll
• Medical, Dental and Vision
• Certified HR Experts
• Hiring and Onboarding
• Employee Finance Tools
Why We're Excited About Partnering With Them
We were really glad to have the team from Gusto reach out to us, as they'd been a company we'd been hoping to integrate with for a long time.
They share our approach of aiming to provide powerful 'enterprise' features to SMEs (small-medium enterprises) at affordable prices, so we knew their full service payroll and HR product would be a great fit for our users, who are themselves mainly SMEs.
We were also excited that integrating with Gusto then opened the door for our users to a wide range of cloud accounting providers such as QuickBooks, FreshBooks and more, creating an affordable three part system perfect for SMEs: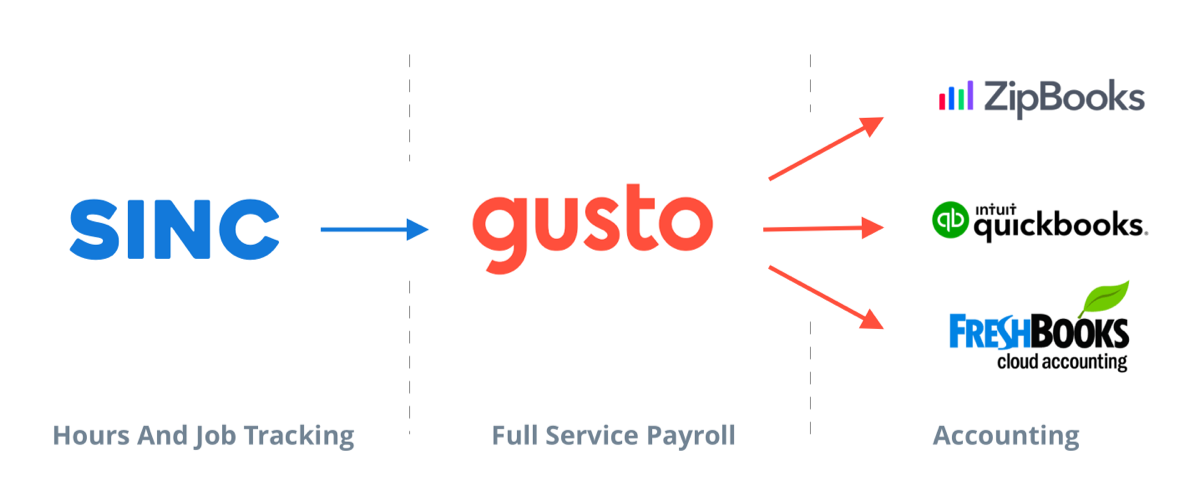 What We Built
Because we knew this would be such a powerful integration for our users, we dedicated our whole team to building it throughout November and December. What we built was a very smooth and thorough final integration, but it is in some ways still a 'V1' as there are aspects we want to expand upon in the future.
For now the functionality it allows is for our users to first link employees between SINC and Gusto, and once that's setup, easily submit the relevant time sheets for one or many employees for a given pay period.
Our integration allows SINC time sheets to be submitted directly to your connected Gusto organization
Overtime And Employee Synchronization
One of the biggest obstacles we faced was the passing of our employee overtime to theirs, as SINC has very granular rules to allow detailed recording and breakdown (daily vs weekly etc), and these didn't all match directly with the types of overtime available in Gusto. However our team created a great system where different types of overtime hours were able to be automatically amalgamated to the types recorded by Gusto, and then passed seamlessly along with the time sheets.
We also had to set up systems whereby changes made to employee details such as pay rates on one end were reflected correctly and automatically on the other. There were also a number of small little details like these that we won't bore you with, but it made for a great and interesting challenge for our team, and we learned a lot that we will be able to apply to even more integrations going forward.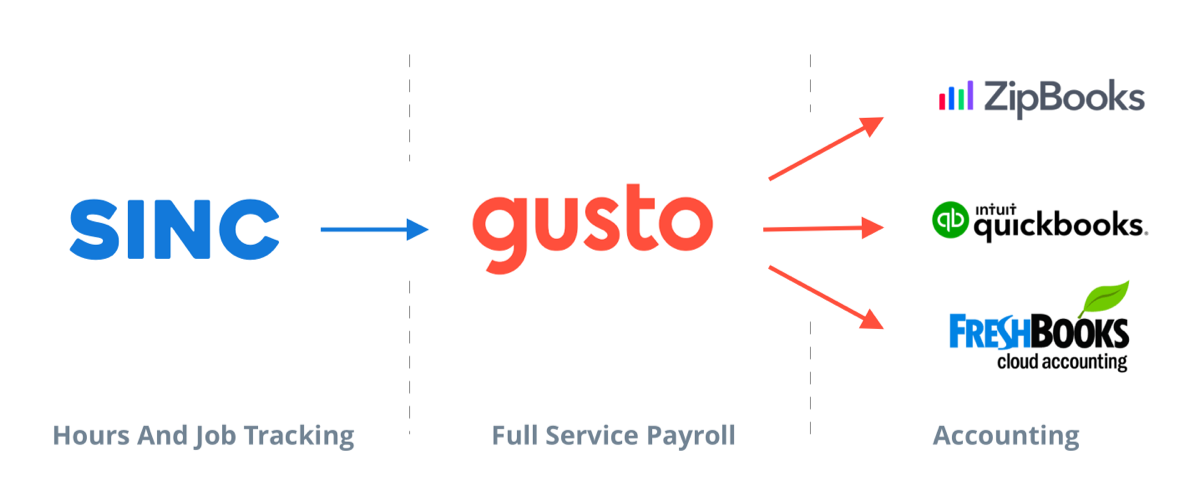 Modifications to employees on one platform (ie SINC) are automatically reflected correctly on the corresponding one (ie Gusto)
The end result is we now have something that makes the submitting of employee hours (including overtime!) to payroll a super smooth and easy process. We believe this will save admins a lot of time, and at the end of the day that's always what we're trying to do here.  
Future Development And Features
The biggest feature we want to expand on in the near future is integrating Paid Time Off allocations via gusto. This is a feature our users have been asking from us for a while, and it's one we've always struggled with the scope of, as we've been unsure about how deep into the payroll / allocation aspect we should or need to go.
Our fear has been that if we start to manage things like allocation on our end, without taking into account all the factors that a full blown payroll service would, we could inadvertently create more harm than good for admins. We're excited that now we can have the best of both worlds, by handling the parts we are good at such as scheduling and recording hours, while letting Gusto handle more in depth aspects like the various allocation / allowance of employees.
Special Gusto Offer For SINC Users
Working with Gusto we were able to get a great offer for our users, and that's a three month free trial period, with no card required!
If you're a SINC user and would like to take advantage of this, simply navigate to Payroll within the web version of SINC, and you will see the option to create a Gusto account and start your free three month trial.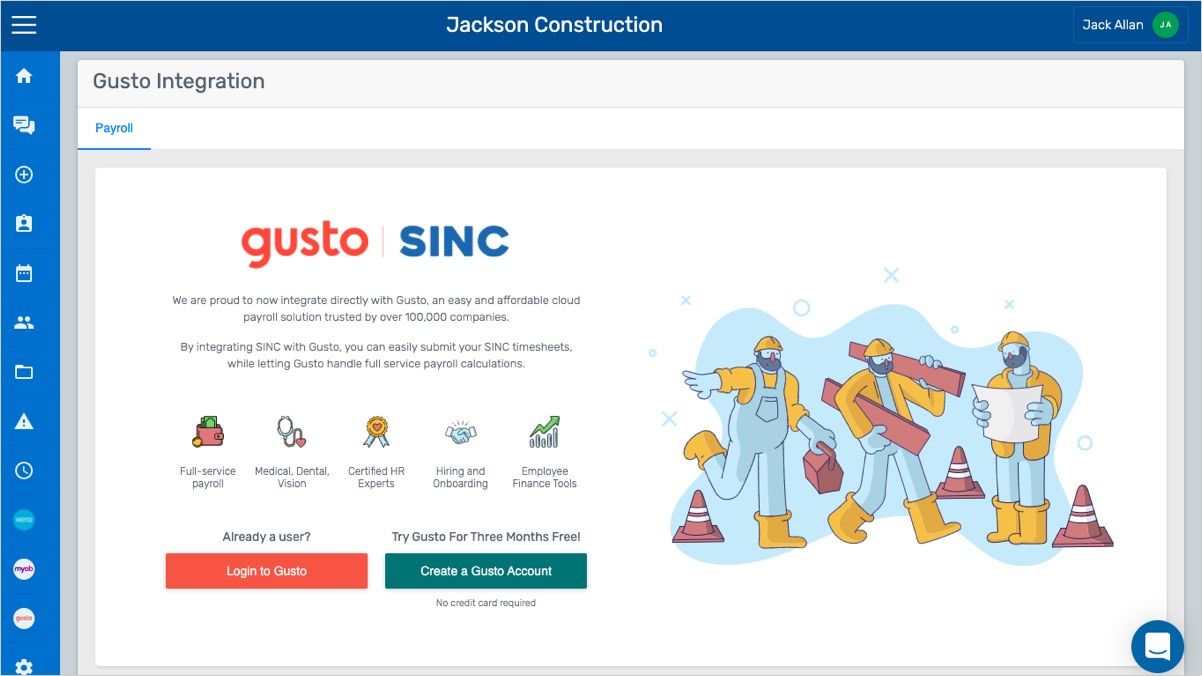 SINC users just need to navigate to the Payroll section of the web version to sign up to Gusto using the three month free offer
If you'd like to learn more about Gusto, you can learn more about about them on their website here.
Thanks a lot for checking out this news about our new Gusto partnership. We are really excited as we said, and we hope this can be something very useful that all our users can take advantage of. Happy New Year from all of us at the SINC team.